Our Store Closed but We Didn't!
970-928-8543
Saturday, Sept 30th was our store's last day, enabling us to cut some overhead so we can pass those savings on to you.
We've gone mobile, still delivering chemicals & filters to your home or business at no extra charge, still selling new spas and focusing on keeping your spa or pool well serviced and maintained.
Revised website with online order form coming...
Why? Because we service and repair every model ever made. Most local companies have been stuck focusing on only the hot tubs they sell. With As You Wish, Pool & Spa, it doesn't matter when or where you purchased your spa. Our service area includes Aspen, Glenwood Springs, Basalt, Carbondale, Vail, Avon, Edwards, New Castle, Silt, Rifle, Meeker and Parachute, Colorado.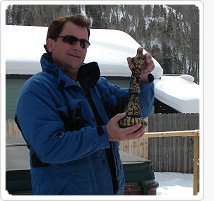 The Buck Stops Here
» Calling As You Wish, Pool & Spa guarantees you will talk with the owner - Tom Gallagher.
» The person doing the repair for your pool or hot tub will be the owner - Tom Gallagher.
» If something isn't completed to your satisfaction, the owner - Tom Gallagher - is who will take responsibility and make matters right.
But, Wait! There's More!
Get The Treatment You Deserve
» No excuses. No $15.00 per hour "ski bums". No B.S. ... And I speak English.
» I pride myself on excellent customer service, detail, honesty and fair pricing.
» It's not about me, me, me. It's about YOU, your concerns and your needs.
» Because I truly do believe in fair pricing, you'll save 20-40% on all services and purchases. Not "Today Only", but every day.
» You will get straight answers without the sales pitch. I will never try to sell you something you don't need.
I can usually restore ANY hot tub to operational condition for under $1000.00. So, don't "take that spa to the dump" like some other dealers suggest. If you want to save the one you have, call me today.
If you want to upgrade or purchase your first new spa, you will get the best spa at the best price... Guaranteed! Trade-ins welcome!
All you need to do is call me at 970-928-8543. I look forward to helping you!

Our Service Area
Based in the Roaring Fork Valley of Colorado's Western Slope (Aspen, Glenwood Springs, Carbondale, Rifle CO) and including:
» Crystal Valley
» Vail Valley
» Grand Valley
» Molas Valley
» Dolores Valley
» Routt Valley
» San Luis Valley
» San Juan Valley
Map of Our Coverage Area